In my last story for @TheMega_Phone, we learned that we might all be eating insects in the future. It was this revelation, in fact, that led me to the Homegrown Revival's Future Foods Supper Club.
David Barrow from The Homegrown Revival very graciously invited me to come shoot the Future Foods dinner in March, where superstar local chef Sonya Coté would be taking locally sourced food and mixing it up with a menu straight out of science fiction. I no longer needed to imagine what the future of food might look like; Chef Coté and her staff imagined it for me, then cooked it up and served it. And, it was fantastic.
Chef Sonya Coté's menu was five courses that were in turns interesting, delicious, intriguing and lunatic: "Bacon & Eggs" made from parsnips and beets; "Corn & Crickets" made with tempura vegetables, polenta and mealworms; "Aquaponics" fish with nori and a soy broth; "Raw Smoke Jars" containing organic truffles made from hibiscus, hickory and cacao; and finally, "Sonic Soylent" with spirulina ice cream, topped with roasted crickets.
The dinner club was held in an art gallery and as each dish was served, the diners buzzed with excitement over the soothing experimental-ambient music. The avant garde environment was perfect for such a surreal event.
If you're interested in finding out more about The Homegrown Revival or if you want to attend their next amazing dinner adventure, you can hit up David at http://thehomegrownrevival.weebly.com, or @HGRevival on Twitter.
More Stay Weird Eat Local: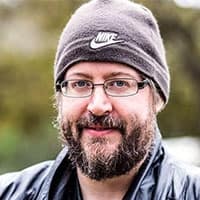 Latest posts by Jax Stafford
(see all)