Wrap Party Films
Our latest award-winning 48 Hour film stole the show in Austin and moved on to Filmapalooza in Washington, D.C. And, I couldn't be more proud of playing a tiny part in the production.
Just goes to show that you can write, produce, shoot, edit and deliver a movie in 48 hours, and you don't have to throw together some kind of flawed film school drivel reel with rushed acting and bad sound. In fact, if you get the right group of talented people together, you can make something really magical.
Filmed in and around Austin's American June, She's A Good Girl (2021) stars Paul Galvan, Lisa Belcher, Sophie Penn and Griffin Mars. It's directed by Michael E. Gonzales; photographed by Caleb Kuntz; written by Charlie Hane, Arora McCargar, Joe Kelly and Lisa Belcher; and produced by Christian Olteanu and Sophie Penn. Robby Shaffer edited it and Sheilava and Christian Cowan wrote and recorded all the music. I recorded the production sound.
Anyway, don't take my word for it, watch She's a Good Girl (2021) right now!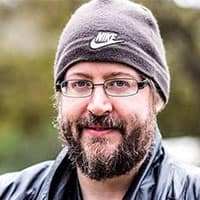 Latest posts by Jax Stafford
(see all)