Natalie
A Show About Food, by People.
Or is it a show about people, by food? Find out when our talented group of food-eaters go eyeball-to-eyeball with some of the best grub in God's Country.
Good BBQ or Bad?
The Texas Food Crawlers team up with Chef Paul Petersen to search for some of the best BBQ in Austin… not an easy feat, but a delicious one!
Taste of Koko
CRAWLING SXSW WITH A TASTE OF KOKO
Hungry blogger Jane Ko has organized food crawls for the past few South by Southwest festivals, and one year she invited us to tag along!
The Texas Food Crawlers:
Exploring the Austin Texas Culinary Scene since 2013
Austin Food Magazine is an exciting chronicle of the Austin foodie scene, and the Texas Food Crawlers was their online presence for a little while.
We started with a four-part series on Texas BBQ, which culminated with a party on the grounds of the Escoffier School of Culinary Arts. Then, we teamed up with food blogger Jane Ko to explore Austin during SXSW. Finally, we explored popular Austin hotspots like Torchy's Tacos, the Dulce Vida Ice Cream Factory and Banger's Sausage House and Beer Garden.

Below is a gallery collection of some of my favorite old Texas Food Crawlers episodes. Have a look at some of them if you want to. See what we do in Austin when we get hungry.
Hayden Walker is still active in the local Foodie community and producing exciting videos. Visit his Youtube Channel, AFM Movies, for more great content!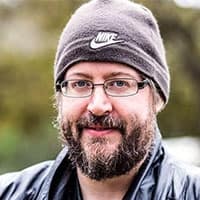 Latest posts by Jax Stafford
(see all)