Two detectives' hunt for the elusive Uncle Paul brings them to a strange cult in the wilderness.
Testify (2016) is our entry for the San Antonio 48 Hour Film Competition in August of 2016.
All the old crew returned for this one, with Christian producing, Mike directing, Adam lighting and myself photographing. On Friday, we drew the option of shooting either in the Western or a Detective / Cop genres. Our prop was a toothbrush, the character's name was Uncle Paul and the line was "What would your mother think?" And the result was this!
Congratulations to Lianne and Gisele for winning best supporting actresses for their roles in this film. We were also nominated, but lost, for the following categories: Best Cinematography, Best Supporting Actor (J.T.) and Best Use of Character ("Uncle Paul.")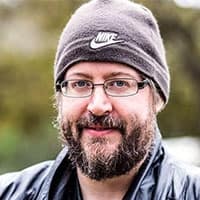 Latest posts by Jax Stafford
(see all)